Rents fluctuate from time to time in every city. Staying up-to-date with  these fluctuations is very critical. When you are moving for instance, you could take advantage of a short-lived decline in the average rent of a given city. Apartment List's Rent Reports cover rental pricing data in major cities, their suburbs, and their neighborhoods. Read through the excerpt below and click on the green button to view the rest of the National Rent Report.
---
Methodology Updates
Apartment List is committed to making our rent estimates the best and most accurate. As part of our efforts towards that goal, we've recently made some changes to our methodology. Data from private listing sites, including our own, tends to skew towards luxury apartments, introducing sample bias.  
In order to address these limitations, our estimates now start with reliable median rent statistics from the Census Bureau. These then extrapolate forward to the current month using a growth rate calculated from our listing data. In calculating that growth rate, we use a same-unit analysis similar to Case-Shiller's approach. This approach only compares those units that are available across both time periods. As a result, it provides an accurate picture of rent growth in cities across the country.
We are continuously working to improve our methodology and data, with the goal of providing renters with the information that they need to make the best decisions. You can read more about our new methodology here.
Welcome to the October 2017 National Apartment List Rent Report! Our national rent index is down 0.1 percent month-over-month, marking the first time since January that we've seen rents fall.
Read on for an analysis of the trends we're seeing this month:
National index down 0.1 percent month-over-month
After increasing by 3.1 percent through the first eight months of the year, our national rent index fell by 0.1 percent between August and September. This is the first time that we've seen a rent decrease since January. Year-over-year growth is currently falling in between the levels from the two prior years.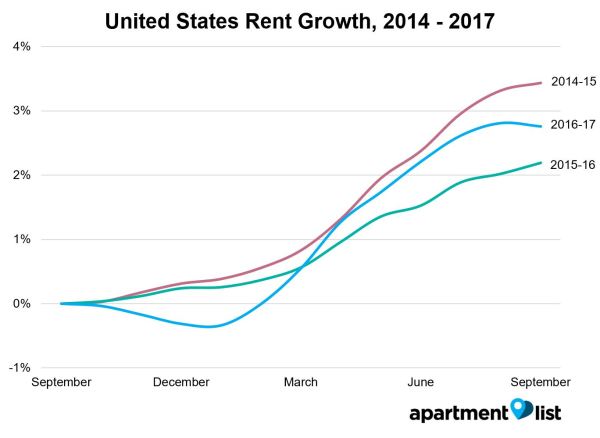 Rents began to flatten last month, with our national index posting the smallest monthly gain since January, and now growth has actually turned negative. The fall and winter months are generally the off-season for renting when we tend to see lowered growth, but it's rare to see rents fall, even by a small amount. Going back to January 2014, this is only the fifth time that our national index has decreased month-over-month, with the other four months of negative rent growth occurring during the slump at the end of last year.
Despite the decrease over the past month, rents are still up 2.8 percent year-over-year at the national level. Year-over-year growth is currently falling directly in the middle of the 2.2 percent rate from this time last year and the 3.4 percent growth rate from October 2015. Year-over-year rent growth continues to pace ahead of the overall rate of inflation, which stands at 1.9 percent as of the latest data release. Rents are also growing slightly faster than average hourly earnings, which have increased by 2.5 percent over the past twelve months.
Rents down month-over-month in 49 of 100 largest cities
The slight drop in rents at the national level is being mirrored in many of the nations biggest markets — the map below…